I'm always on the lookout for new griddle recipes.
Part of the reason I enjoy checking out new griddle recipes is that the outdoor griddle is so much fun to cook with!
Griddle cooking is fun, and anyone who has cooked on a stove is more than qualified to cook on a griddle.
You don't have to be a short-order cook to enjoy cooking on an outdoor griddle, but there's something fun about having multiple foods like eggs, bacon, pancakes, bacon, hash browns, and veggies all cooking at the same time.
The griddle is perfect for making restaurant-quality food at home. Some people are convinced that the burger is cooked to perfection when it's made on a griddle. But we'll let you decide for yourself.
Cook the Perfect Steak on a Blackstone Griddle
Griddle Steak Recipe
If you love a delicious crust on your steak, the griddle is one of the best tools you can use to achieve an all-over sear on your food.
This recipe is simple to make and is just as good as any restaurant. Cooking steak on a griddle is actually quite simple to master.
Because steak can cook quickly, it's smart to measure the internal temperature of the meat with a good quality digital meat thermometer.
Don't forget that when you let the steak rest after cooking, the cut of meat will continue to cook off of the heat due to carryover cooking. So if you like your steak a medium rare, consider pulling it at 120-125F before resting.
A great thing about this recipe is that it works well with many cuts of steak.
Check out this recipe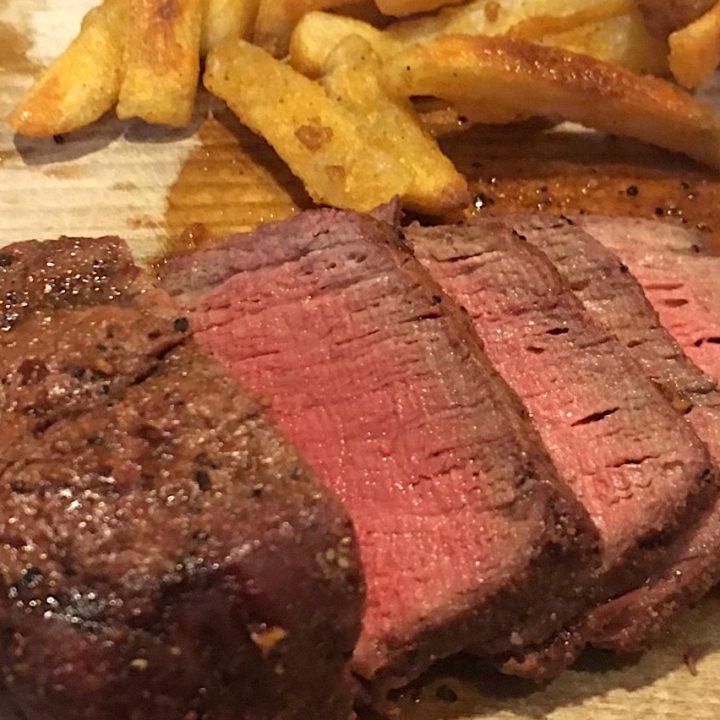 Smashburger on the griddle
Best Smash Burger Recipe
If you love burgers this Smashburger is a flavor bomb of beef intensified by cooking it on the
Blackstone griddle
.
Part of what makes this smash burger recipe so delicious is that the beef is the star of the burger. I've found that using ground beef with a fat content of at least 80:20 for the burger patty works best and makes the most delicious burger because the fat renders on the griddle and flavors the meat.
Having a toasted bun gives a little texture but will also allow the juices to be present without the bun becoming soggy.
Smash burgers are simple to make and you'll be reaching for a stack of napkins after your first bite!
Check out this recipe
Wagyu Smash Burger on the griddle recipe
Wagyu Smash Burger
The Blackstone griddle is perfect for making this Wagyu Smash Burger dish. I love how the meat gets a flavorful crust and the meat stays very juicy even for how thin it gets pressed.
Griddle Shrimp Burger
Shrimp Burger On The Blackstone Griddle With Jasmine Rice Bun
This non-traditional burger is fun to make on the Blackstone Griddle and delicious to eat.
Served open-faced succulent sweet shrimp sit atop a bun made of jasmine rice. With a few other traditional burger toppings like bacon, tomato, and avocado along for the ride, this has the potential to become your favorite burger!
Check out this recipe
Scallops and Shrimp
Grilled Shrimp & Scallops Recipe
It's crazy how one of the tastiest things to cook on the Blackstone griddle comes together in under 5 minutes. Scallops and shrimp are full of protein and a delicious meal by any standards
Check out this recipe
Spicy Sweet Corn on the Griddle
Spicy-Sweet Street Corn: a Blackstone Griddle Recipe
Spicy and sweet with a few punches of heat!
One bite of this dish will leave you wanting more.
Your friends will be asking you to make this Spicy-Sweet Street Corn for the next cookout and every get-together going forward.
Check out this recipe
Potato Pancakes
Potato Pancake Recipe
This Blackstone Griddle recipe for potato pancakes is a perfect accompaniment for any meal of the day.
It's easy to make and a delicious side dish when you're looking for a change of pace.
Check out this recipe
French Toast Sandwich
French Toast Recipe (Blackstone Griddle)
French toast is delicious when cooked on the Blackstone griddle but turning French toast into a bacon sandwich is even better. Delicious for breakfast, brunch, or a snack this simple recipe does not disappoint.
Check out this recipe
Now that you have a good idea of some fun recipes to cook on the griddle, you may have questions about griddle cooking. I've compiled some of the top questions about griddle cooking and answer those questions here.
If you're looking for some fun accessories to make your griddle cooking experience more enjoyable these are our personal recommendations of must-have accessories for griddle cooking.