Howdy from Montana!
I'm Paul Sidoriak and GrillingMontana is a collection of my culinary successes and failures from the grill and beyond.
Expert testimonials
Recently, We Love Fire magazine named Paul Sidoriak one of North America's Top 10 Barbecue Experts and I couldn't be more proud and honored to be listed alongside some of the greats!
We have a unique opportunity here at GrillingMontana to share our experiences on the grill with you.
At times manufacturers will send us products to try and if we feel those products are worth mentioning, I will let you know about them. I share my opinions on the equipment review pages.
---
Recipes and product reviews
As an avid grilling enthusiast, I love to cook over hardwood lump charcoal in ceramic Kamado cookers. But I don't just limit myself to cooking on a Kamado.
I've been having a blast cooking outdoors for over four decades now! One of my first jobs was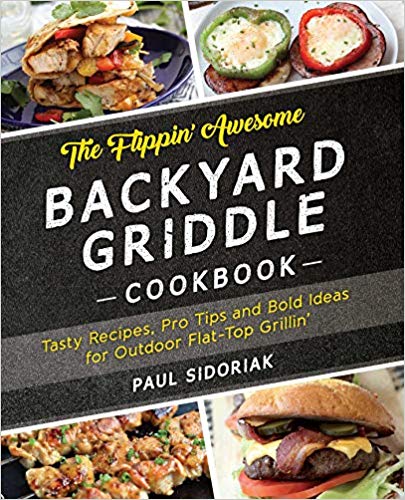 cooking at a golf course on a flat top griddle and I find it just as much fun to cook on a griddle today as when I was a teenager!
So much fun that I wrote an entire book on griddle cooking. The Flippin' Awesome Backyard Griddle Cookbook contains 50 recipes for your backyard griddle. It was released in 2018 and has sold tens of thousands of copies.
Not only do I enjoy creating recipes for the Blackstone and other griddle grills, but I've also gotten pretty good testing them and writing reviews about my experiences cooking on griddles.
It's fun to give my perspective on new products like this Blackstone E-series electric griddle, but my opinions are my own and not influenced by any manufacturer.
A good example of this is my article, Is the Blackstone Air Fryer Griddle worth it. I bet you can probably guess my opinion of it but I will let you read the article to find out more.

Speaking of air fryers, I've been able to share my opinion about air fryer cooking on multiple occasions with the Shark Ninja company, makers of the Ninja Foodi Grill. I've found that the Ninja Foodi grill is an extremely versatile cooker and have created a variety of recipes for use with this or any air fryer.
In addition to creating air fryer recipes, I also operate a Facebook group dedicated to the Ninja Foodi Grill. With over 50K group members, it's a great place to get inspired with some fun things to cook in the Foodi Grill or your air fryer. I'd encourage you to come and have a look on Facebook to learn more and join the group.
---
Brands I've worked with
I've worked with some of the most interesting brands around and each of them has different challenges. Some of these companies have been multi-year relationships and others have been project-based.
From recipe development and product reviews to helping you identify your core audience, I can assist you with growing your business.
---
Some of the products I have affiliate relationships with and on occasion receive a small commission from.
As an Amazon Associate, I earn from qualifying purchases.