With the growing popularity of Blackstone griddle cooking, I often get asked how to cook steak on a griddle.
If you're new to griddle cooking, cooking steak on a griddle can be intimidating but it's actually more simple than you would think.
One of the benefits of cooking food on an outdoor griddle is that the griddle can cook just about anything.
Griddles are less intimidating than cooking over an open fire, and if you've ever cooked on a pan using the stove you're plenty qualified for using an outdoor griddle.
How to choose the right steak to cook on a griddle
Cooking a good steak on the griddle requires, well, having a good steak!
When you're shopping for a steak, look for one that's well marbled and beef that has some brightness to its color. If possible, choose a steak that's of even thickness so it lies flat on the griddle without high spots.
It's ok for the exterior of the steak to have a nice fat cap but look for ones without a lot of silver skin. If the meat does have silver skin, you will need to remove it with a knife before cooking as it's pretty unpleasant to chew on.
If you don't have good meat in your area, I've had particularly good luck ordering meat directly from a quality online butcher like Porter Road.
What type of steak to cook on a griddle
The type of steak you cook on a griddle is a matter of personal preference and of course budget.
My top four steaks for griddle cooking are as follows:
Boneless Ribeye- One of the most beloved steaks, the boneless ribeye is packed with flavor and has a rich beef taste. Look for one with a large ribeye cap or spinalis dorsi which some think is the most flavorful part.
Sirloin Steak- One of the most affordable steaks, the sirloin is full of flavor. Leaner than the ribeye, the sirloin has some chew to it but is still plenty tender. For full flavor at a reasonable price, the sirloin steak is hard to beat.
Filet Mignon- The filet is the most tender cut of steak. It's not quite as flavorful as the ribeye or sirloin steak but what it may lack in richness, it more than makes up for in tenderness.
New York Strip Steak- A New York Strip steak is bold and full of beef flavor. It has some chew to it like the sirloin and a decent fat cap which many find desirable when rendered. New York strip steaks are great for griddle cooking but can be expensive so look for them when they are on sale for a treat.
Tips for cooking a steak on the Blackstone Griddle
Allow the meat to come to room temperature before cooking
A major benefit of cooking steak on the griddle is the all-over crust or sear that develops when cooking. Removing your steak from the refrigerator and allowing it to sit at room temperature actually gives the browning process an advantage by starting with meat that's less cold.
Pat the meat dry before cooking
It's so important to make sure your meat is as dry as possible before cooking. Pat the meat dry with a few layers of paper towels on both the top and bottom before cooking. Dry meat will instantly begin to caramelize or form a crust on a hot griddle. But meat that is moist or wet will have to steam away that moisture before the meat begins browning.
Thin steaks really need to be dry before cooking because they cook much quicker. Check out our method for cooking thin steaks perfectly in this article.
Use this one ingredient only to season your steak
There are plenty of delicious beef seasonings on the market these days, but if you really want the beef flavor to be the star a good kosher salt is the only seasoning you need.
Season both sides of the meat with about half a teaspoon of kosher salt when you remove it from the refrigerator and allow it to come to room temperature before cooking. This is called dry brining and it makes the steak flavor more intense and assists with tenderizing the meat.
Many beef seasonings have ingredients like sugar, garlic, herbs, and onion powder that are all susceptible to burn on a hot griddle. Burned seasoning can taste acrid and look unsightly on your food. Using salt as your primary seasoning will minimize the chance of these off-flavors being introduced during cooking.
Coordinate your side dishes
One of the benefits of griddle cooking is that with some planning all of the food is ready at the same time.
In the summer months, I really like serving this Spicy-Sweet Street Corn as a side dish when cooking steak on the Blackstone griddle. For a special treat, consider trying Wagyu beef as we do in this recipe.
If you're looking for other ideas of side dishes to make on your griddle my book: The Flippin' Awesome Backyard Griddle Cookbook: Tasty Recipes, Pro Tips and Bold Ideas for Outdoor Flat Top Grillin' is a compilation of 50 recipe ideas that may inspire you.
Things You'll Need
Griddle

A steak

Kosher Salt

Cooking oil
If you still have questions about griddle cooking check out this article that answers all of the questions you may have about griddle grill cooking. If you want to learn more about cooking steaks, my favorite method is the reverse sear and I show you how to reverse sear in this article.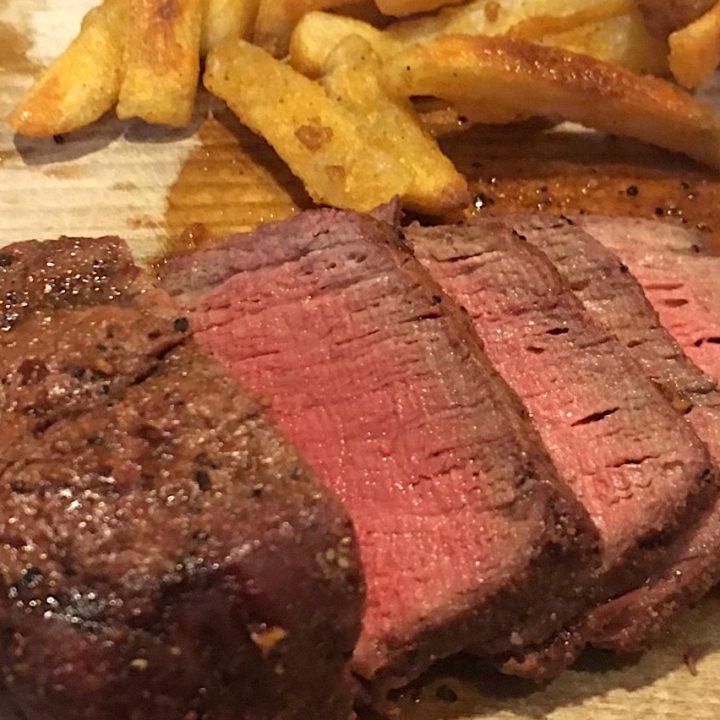 Griddle Steak Recipe
If you love a delicious crust on your steak, the griddle is one of the best tools you can use to achieve an all-over sear on your food. This recipe is simple to make and is just as good as any restaurant.
Ingredients
1

boneless ribeye steak 10 oz

1

teaspoon

kosher salt

1

tablespoon

cooking oil
Instructions
Remove the steak from the refrigerator

Pat the steak dry with paper towels on both sides

Season both sides of the steak with salt

Allow steak to rest on a wire rack with a plate underneath for 1 hour at room temperature

15 minutes before cooking, preheat your griddle to medium-high heat, 400-425F

Begin cooking by patting the steak dry a second time with paper towels on both sides

Pour half the oil on your griddle and spread around with a spatula

When the oil begins to sheen and just prior to smoking place your steak on the oiled griddle area

Cook for 2 minutes without moving the steak

Add the remaining oil to the griddle. Spread evenly and allow it to preheat for 30 seconds

Flip the steak into the new oil and cook for an additional 2 minutes

Remove the steak from the griddle and allow it to rest for 5-10 minutes covered loosely with foil

Serve immediately
Nutrition
Serving:
1
g
Calories:
446
kcal
Protein:
35
g
Fat:
34
g
Saturated Fat:
12
g
Polyunsaturated Fat:
21
g
Cholesterol:
111
mg
Sodium:
711
mg