If you haven't got the memo, the outdoor griddle is the hottest thing in outdoor cooking and these Blackstone griddle recipes are a great way to get cooking.
All of these recipes can be cooked on a Blackstone griddle, flat top grill, plancha, comal, or whatever flat heated surface you prefer.
These are some of the best Blackstone Griddle recipes because we find ourselves making them on a regular basis.
Although there's nothing wrong with grilled cheese cooked on a griddle, we like to have a bit more fun with our sandwich recipes and encourage you to get creative when cooking on a flat top griddle.
Spicy Sweet Corn
This is hands down my favorite side dish to make with just about anything cooked on the griddle. Not only is it simple to make, it scratches all the itches with flavors of sweet, salty, spicy, and bacon! Double extra bonus points if you have access to fresh-picked sweet corn, but the dish comes together fine using corn from a can or fresh frozen.
Spicy-Sweet Street Corn: a Blackstone Griddle Recipe
Spicy and sweet with a few punches of heat!
One bite of this dish will leave you wanting more.
Your friends will be asking you to make this Spicy-Sweet Street Corn for the next cookout and every get-together going forward.
Check out this recipe
Scallops and Shrimp on the Blackstone Griddle
Scallops are one of those dishes that people go crazy for! When cooked properly scallops are deliciously sweet and flavorful. This recipe cooks in under 5 minutes so you can spend less time cooking and more time enjoying. Your friends and family will think you're a professional chef after you make this dish on the Blackstone Griddle.
Grilled Shrimp & Scallops Recipe
It's crazy how one of the tastiest things to cook on the Blackstone griddle comes together in under 5 minutes. Scallops and shrimp are full of protein and a delicious meal by any standards
Check out this recipe
French Toast Sandwich
A little bit sweet, a little bit savory, this French toast sandwich is a synch to cook on the Blackstone griddle. Cooking the bacon and the French toast at the same time means the dish will come together quickly. Perfect for breakfast or brunch, this dish is worth a try.
French Toast Recipe (Blackstone Griddle)
French toast is delicious when cooked on the Blackstone griddle but turning French toast into a bacon sandwich is even better. Delicious for breakfast, brunch, or a snack this simple recipe does not disappoint.
Check out this recipe
Wagyu Smash Burger
One of the most popular burgers to make on the Blackstone Griddle gets elevated by using Wagyu beef. If you haven't tried Wagyu beef, it's typically much more expensive than Angus or other beef but the burger meat is surprisingly affordable and has loads of flavor.
Wagyu beef typically has a lot of fat that renders when it cooks which means massive flame-ups when your grill over an open flame. But cooking this Wagyu burger on the griddle allows the Smash Burger to baste in all of those juices without causing a conflagration.
Wagyu Smash Burger
The Blackstone griddle is perfect for making this Wagyu Smash Burger dish. I love how the meat gets a flavorful crust and the meat stays very juicy even for how thin it gets pressed.
Check out this recipe
How To Cook Steak on a Griddle
If you love edge-to-edge browning and a flavorful crust on your steak then cooking it on the Blackstone griddle is for you. This steak recipe lets the beef be the star of the show. With simple seasonings and a relatively quick cook time, this may possibly be one of the best ways to cook a steak yet!
Griddle Steak Recipe
If you love a delicious crust on your steak, the griddle is one of the best tools you can use to achieve an all-over sear on your food.
This recipe is simple to make and is just as good as any restaurant. Cooking steak on a griddle is actually quite simple to master.
Because steak can cook quickly, it's smart to measure the internal temperature of the meat with a good quality digital meat thermometer.
Don't forget that when you let the steak rest after cooking, the cut of meat will continue to cook off of the heat due to carryover cooking. So if you like your steak a medium rare, consider pulling it at 120-125F before resting.
A great thing about this recipe is that it works well with many cuts of steak.
Check out this recipe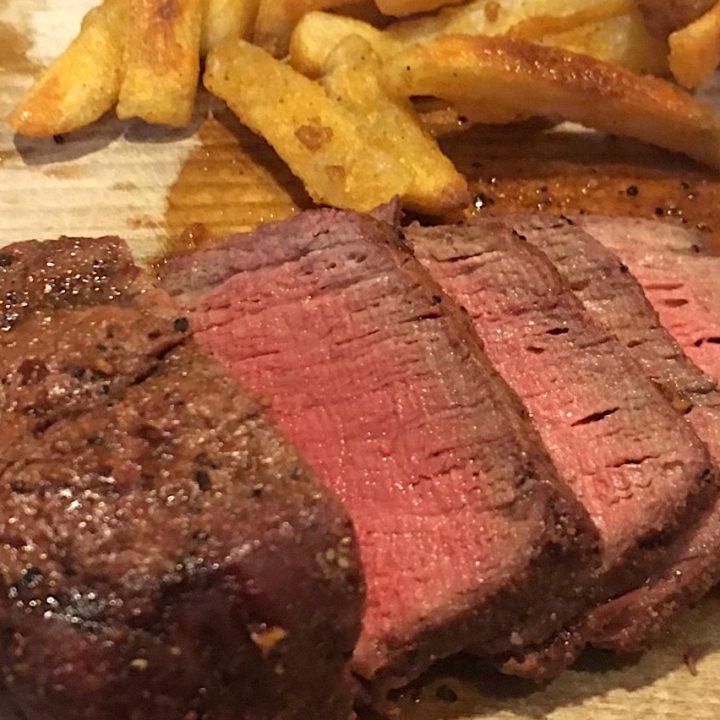 Potato Pancakes
This potato pancake recipe checks many boxes as it's just as delicious as an appetizer as it is supporting the main dish. Potatoes are a staple of flat top cooking and this recipe is one you need to have in your arsenal.
Potato Pancake Recipe
This Blackstone Griddle recipe for potato pancakes is a perfect accompaniment for any meal of the day.
It's easy to make and a delicious side dish when you're looking for a change of pace.
Check out this recipe
Shrimp Burger On The Blackstone Griddle With Jasmine Rice Bun
When you're in the mood for something different, this shrimp burger is worth taking a look at. Shrimp cook up fast on the Blackstone griddle and are served over a unique bun made of jasmine rice. It's quite possibly one of the best open-faced seafood recipes going!
Shrimp Burger On The Blackstone Griddle With Jasmine Rice Bun
This non-traditional burger is fun to make on the Blackstone Griddle and delicious to eat.
Served open-faced succulent sweet shrimp sit atop a bun made of jasmine rice. With a few other traditional burger toppings like bacon, tomato, and avocado along for the ride, this has the potential to become your favorite burger!
Check out this recipe
Easy CopyCat Smash Burger Sauce
If you're tired of the same old, same old when it comes to burger toppings, this copycat Smash Burger sauce is worth a look. I'd suggest you make a double batch because one taste and you'll be dipping everything from fries and tots to cauliflower and broccoli in this sauce.
Easy CopyCat Smash Burger Sauce
If you love a good burger this sauce will make your next burger more delicious than you ever imagined. This copycat smash burger sauce is perfect for when you make a burger on the Blackstone griddle.