Wagyu sirloin steak is an irresistible cut of beef that's certain to make any meat lover's mouth water. One of the benefits of a wagyu sirloin steak is the price. With top sirloin, you get a tender cut of meat with loads of rich, beefy flavor but at a fraction of the cost of other wagyu cuts.
Where do I get a Wagyu Sirloin Steak?
American Wagyu beef can occasionally be found at higher-end supermarkets. But I've found the best way to purchase Wagyu beef is directly from the farm.
Snake River Farms, a pioneer of American Wagyu conveniently delivers beef directly to your door and the system is relatively effortless. Order directly from the Snake River Farm's website and in a few days, your delivery arrives frozen solid from Eastern Idaho packed in dry ice.
Providing beef directly to customers is a real benefit as you're not rolling the dice on what's in stock at the local market. I appreciate the peace of mind knowing that I have premium steaks on hand and in my freezer for whenever I feel like enjoying them.
How to Cook Wagyu Steak?
One of the great things about wagyu beef is that it requires nothing special or to cook it.
If anything, I prefer to use a simple cooking method for this wagyu sirloin. This allows the high-quality beef flavor to become the star of the dish. Today I use an indoor grill that's also an air fryer to cook the sirloin steak. But rest assured that it can be grilled, roasted, pan-seared, or cooked however you prefer.
Is Wagyu Beef Expensive?
American wagyu beef is typically more expensive per pound than select, choice, and often USDA prime cuts of beef. Although expensive, it's still more affordable than purebred Japanese wagyu.
Fortunately, I've got a coupon code you can use for Snake River Farms. If you decide to purchase, simply use the code Porterhouse at checkout for 10% off of your purchase.
If you haven't tried wagyu steak, you may be surprised by the beautiful beef marbling. Similar to gold grade or even Kobe beef, the sirloin steaks can be as tender as filet mignon when cooked to medium-rare.
Don't forget to use code Porterhouse at checkout and save 10% on any order from Snake River Farms.
Looking for some fun ways to cook Wagyu beef?
Try cooking a steak on your outdoor griddle with this method or on the grill with the reverse sear method.
In the mood for a burger? Try our Wagyu Smashburger with chili recipe.
📖 Recipe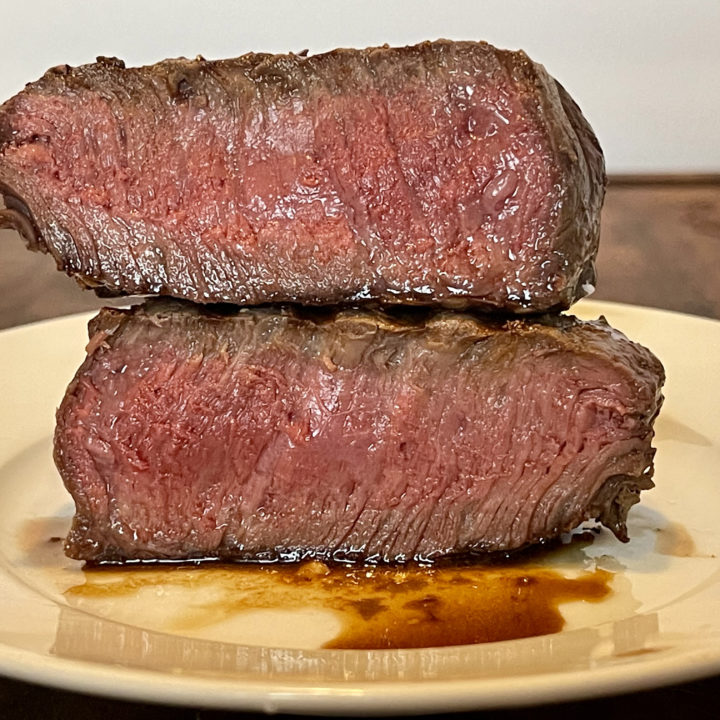 Wagyu Steak Recipe
Wagyu sirloin steak is simple to make but packs loads of concentrated beef flavor. A more affordable cut of beef that's both tender and full of flavor.
Ingredients
1

6 oz

sirloin steak

1

teaspoon

kosher salt
Instructions
Remove the steak from any packaging

Season the steak liberally with kosher salt on all sides and allow the meat to rest at room temperature for one hour

Preheat your Ninja Foodi Grill to High on the BBQ Grill setting

Insert a digital probe thermometer into the center of your steak

Place the steak into the preheated Ninja Foodi Grill and cook on one side with the lid open for 10 minutes or until it reaches an internal temperature of 95F

Flip the meat and close the lid of your Ninja Foodi Grill. This will initiate the air fryer function

Cook the second side of the steak for an additional 5 minutes or until the steak reaches an internal temperature of 125F

Remove the steak from the grill and allow it to rest until the internal temperature reaches 135F or your desired doneness.
Nutrition
Serving:
6
oz
Calories:
414
kcal
Protein:
1
g
Fat:
1
g
Saturated Fat:
1
g
Monounsaturated Fat:
1
g
Cholesterol:
1
mg
Sodium:
2326
mg
Potassium:
4
mg
Calcium:
2
mg
Iron:
1
mg