Today I will cook burgers in an air fryer called the Ninja Foodi Grill.
I've been thinking about how to cook burgers in an air fryer, and can the Ninja Foodi Grill make them taste just as good as from the outdoor grill?
Fortunately, it didn't take much convincing for me to give them a shot.
I've recently fallen in love with the Ninja Foodi family of products. Or at least the two which I own. I have a newfound love for air frying and seem to be using the air fryer function or air crisp setting for all kinds of foods.
No Grill, No Problem! If you don't already own the Ninja Foodi Grill you can actually hack your air fryer and start grilling indoors too with this one simple thing.
The Ninja Foodi 6qt cooker is a ton of fun. I've been making some yummy dishes like these Easy Shrimp and Grits so naturally, I was really excited to try the Foodi Grill.
You pre-heat the grill first before cooking.
It's got a heavy grill plate that sits at the bottom of the cooker. Food sits on the grill plate just like the grates of your grill.
Although this isn't much different from your backyard grill (which you also pre-heat) Foodi Grill cooks with both conduction and convection.
Pre-heating is simple
Lights illuminate to let you know where you are in the process. After the Foodi Grill is pre-heated you add your food and get cooking.
Once burgers go on the grill it's almost like cooking outside
My typical burger cooking method is to allow it to grill undisturbed. Once juices begin to form on the top of the burger, it gets a flip.
This process takes about five or six minutes outside. So I cooked the burgers in the Ninja Foodi the same way.
You can see at the halfway mark, these burgers are releasing some juices.
The circulating air has slightly browned the meat and it's ready for a flip.
The burgers clearly have some grill marks from the grill plate. I will let them finish cooking for another three minutes.
When three minutes are up, the burgers are done.
You can clearly see how the burgers have browned nicely and look delicious.
One bite and you immediately get a grilled flavor. These burgers are exactly what I have been hoping for. Simple and easy to make.
Finally, an indoor grill that isn't underpowered. And the cool part is you can trick it out with some of my favorite accessories.
If you have a Ninja Foodi Grill or are considering getting one check out our Facebook group here: Ninja Foodi Grill Lovers Group.
Have you taken carryover cooking into consideration for your indoor grill or air fryer? Check out our article on how carryover cooking affects doneness. Although beef is my preferred burger, this turkey burger recipe would also work well in the Ninja Foodi Grill.
Now that you've mastered burgers, we have plenty of other inspiring recipes for the Ninja Foodi Grill. Some of our favorites are listed in this post with plenty of ideas about what you should be cooking next.
📖 Recipe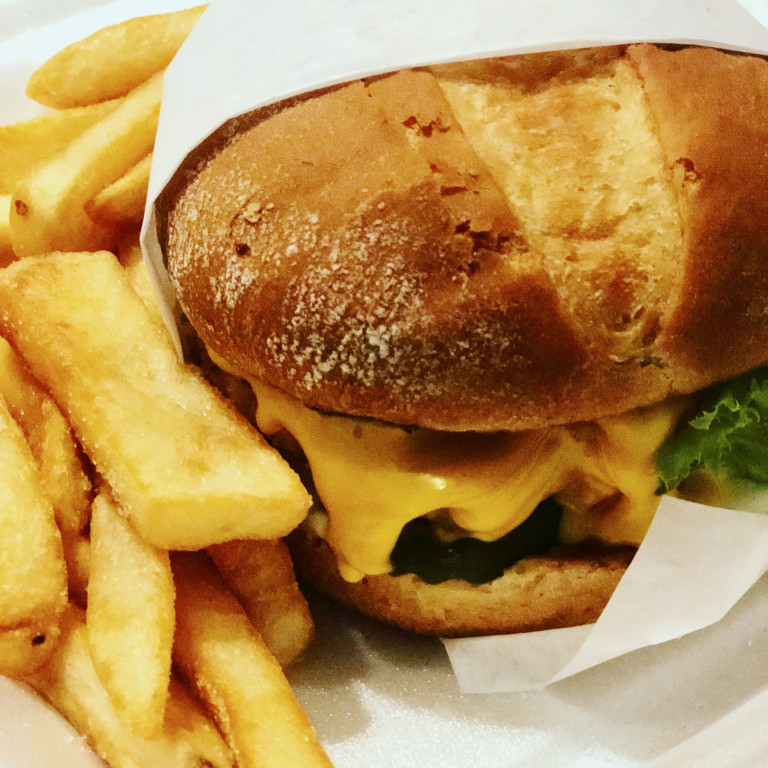 Ninja Foodi Burger Recipe
Burgers are simple to make when you cook them in the Ninja Foodi Grill. A quick and easy dish thats perfect for someone just getting started cooking in an air fryer or using the Foodi grill.
Equipment
Ninja Foodi Grill or Air Fryer
Ingredients
1

pound

ground beef

½

cup

shredded cheddar

¼

cup

cooked bacon bits

3

slices

American Cheese

3

Burger Buns

1

teaspoon

garlic salt

1

teaspoon

black pepper
Instructions
In a large bowl, combine the ground beef, cheese, bacon bits, salt, and pepper

Preheat your Ninja Foodi Grill with the grill insert to HIGH

While the Ninja Foodi Grill is preheating, divide your beef into 3 third-pound portions

Flatten the beef into burger patties of even thickness

Place the burgers inside the Ninja Foodi Grill on the preheated grill plate

Close the lid and cook for 5 minutes

Cook the burgers for an additional 3 minutes

Remove the burgers from the Ninja Foodi Grill and rest for 2 minutes

Serve on burger buns with your favorite toppings
Nutrition
Calories:
659
kcal
Carbohydrates:
23
g
Protein:
39
g
Fat:
45
g
Saturated Fat:
20
g
Trans Fat:
2
g
Cholesterol:
148
mg
Sodium:
1559
mg
Potassium:
518
mg
Fiber:
1
g
Sugar:
3
g
Vitamin A:
391
IU
Vitamin C:
1
mg
Calcium:
460
mg
Iron:
5
mg
If you enjoy burgers as much as we do, check out this Maple Bacon Beer burger.
For a delicious spin on the burger, this recipe for How to Cook a SmashBurger on the Blackstone griddle is worth a try.
And for those of you who have a pellet grill, check out this Everything Bagel Burger recipe cooked on a Traeger Grill.