One of the most common questions I get in the Ninja Foodi Grill ❤️ Lovers Facebook group is what are the best Ninja Foodi Grill accessories.
Nobody wants a bunch of Ninja Foodi Grill accessories lying around and not being used. I looked into my pantry and lined out some of the items that get the most use around my kitchen.
When it comes to accessories for the Foodi Grill, you want to make sure that the items have other applications than just working with the grill.
Look for indoor grill accessories that don't take up too much space. Always take cleaning into consideration too.
---
One of the best accessories for the Ninja Foodi Grill is also one of the newest accessories.
The SearNSizzle™ is a grill plate that sits inside of your Foodi Grill.
You may ask why someone would need a grill plate when the Ninja Foodi grill already comes with one.
The answers are simple.
SearNSizzle™ has raised rails that deliver more heat and searing to the food. More searing means more flavor and more delicious food.
But a solid sear and prettier grill marks aren't all the SearNSizzle™ is good for.
When food cooks it releases juices. The juices sizzle and it vaporizes the juices in the wells of the SearNSizzle™.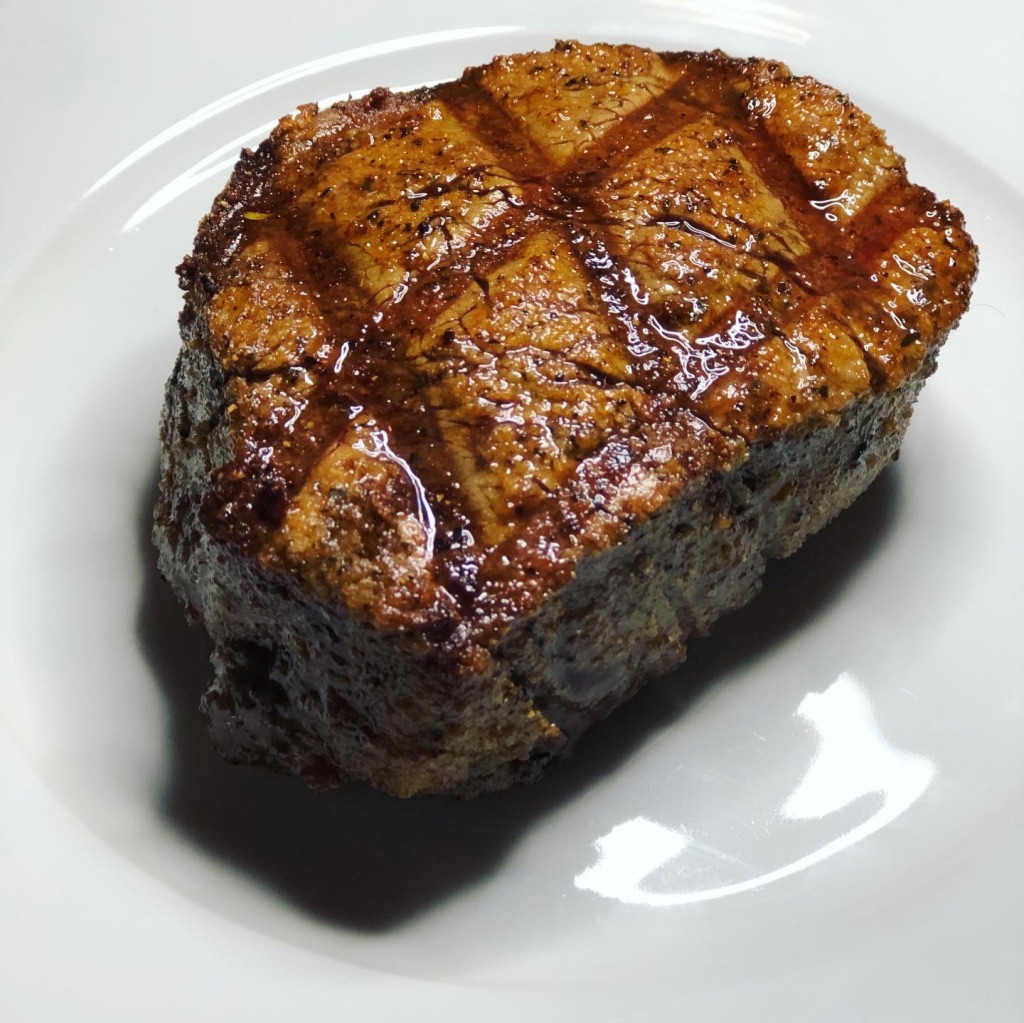 This intensifies the flavor of your foods making them more delicious.
The SearNSizzle™ can also be flipped over and used as a griddle surface inside of the Foodi Grill.
The SearNSizzle™ is also available in a slightly different, rounded shape for the Ninja Foodi Pressure cooker and works just as well inside the 6qt or 8qt Ninja. Check out the SearNSizzle™ for the pressure cooker here

Get Yourself a Ring Mold For Eggs and Other Treats
One of the best benefits of the SearNSizzle™ is that it can be flipped over and used as a griddle.
These Silicon Egg Rings are great when using the griddle side for cooking egg bites.
But think beyond the egg sandwich when using the egg rings. They would be great for making pancakes or even doing drop brownies or cookies. The stainless steel handles rotate easily for storage or cooking with the lid closed.
They are also dishwasher safe and can withstand temperatures up to 446F.
.
---
Get yourself a good quality thermometer
Using a good quality food thermometer is the only way to truly know that your food is cooked safely and to your desired doneness.
The difference between a medium-rare, juicy pink steak, and an overcooked slab of shoe leather is only a few degrees. Using a thermometer can make all the difference which is probably why one comes included with the new Ninja® Foodi™ Smart XL Grill.
Instant read thermometer under $ 20
If you're looking for an instant-read thermometer that won't break the bank it's hard to beat this one. Its compact design makes it easily fit in your pocket and at under 20 bucks, it won't break the bank. It even comes with a food doneness refrigerator magnet for quick reference.
Fastest instant-read thermometer
If speed is your thing, it's hard to beat the Classic Thermapen by ThermoWorks. Often regarded as the go-to thermometer for serious home cooks and professionals the Thermapen has won more awards than any culinary thermometer I am aware of.
Leave-in digital probe thermometer
One of the best features of the Ninja Foodi Grill Pro is the probe thermometer. But not all models of the Foodi Grill have the thermometer. Fortunately, there are some great options for external thermometers that are left in the food during cooking. They not only let you know what temperature your food is at, but they are great for monitoring carryover cooking which is very important.
This no-frills thermometer is completely straightforward to use. It comes with a probe that you insert in the food that you can monitor while it's cooking. Set the alarm with a few pushes of the button and it will let you know when your food hits its desired temperature.
The back is conveniently magnetized so it can stick to metal surfaces like the outside of your oven or grill. It doesn't get much simpler than the ThermoWorks Dot.
The ChefAlarm combines the best of both worlds. Track the temperatures of the food during cooking with the leave-in probe and keep track of time with the handy alarm function. With loud and extra loud alarm settings when the ChefAlarm goes off, it's like ringing the dinner bell when it's time to eat.
---
Keep things clean
The expression that cleanliness is next to godliness is evident when using an indoor grill. Keeping the cooker clean not only allows the food to cook more efficiently, but it prevents the Foodi Grill from smoking.
If a component of the Foodi Grill doesn't have a cord attached to it then it's safe to put in the dishwasher. But sometimes it needs a little pre-washing before it goes in the DW.
When it comes to cleaners this stuff takes the prize. I'm not sure what kind of magic happens with the Dawn Powerwash but rest assured I have been really happy with its performance getting components clean.
These mini scrub brushes are perfect for getting into all the hard-to-reach places food can stick to. With a sturdy handle and natural bristles, it won't scratch nonstick surfaces. It works well for both cleaning vegetables and the Foodi. I love these brushes for cleaning potatoes and you can find them on Amazon for about ten bucks.
A sturdy brush for cleaning the air crisp basket, cooking pan, and grilling surface.
Sometimes you need a small but sturdy brush to get into the corners and little crevices. This set is great for getting little bits of caked-on food removed.
.
---
Best Ninja Foodi Grill Accessories For Cooking
I've wasted my time on so many oil sprayers until now. The EVO oil sprayer does the job every time without compromise.
The oil sprayers that you have to pump are a pain and never really work well. The ones which pump at the nozzle clog if you use anything thicker than water or apple juice but this oil sprayer works every time!
The EVO will spray very thin whips of oil on your food. It's perfect for spraying on breadcrumbs, veggies, fish, or anything where you want a slight crisp without a bunch of pooling oil. Possibly one of the best accessories for any air fryer or indoor grill setup.
One of the most overlooked functions of the Foodi grill is dehydrating.
It's a great way to preserve veggies, make jerky, and even make treats for your furbabies. This dehydrating rack allows you to stack food increasing the capacity of what you dehydrate.
It also works wonders for batch cooking bacon, and even multiple pieces of toast.
Make delicious jerky from ground meat (or vegetables) with this jerky gun. Works great for chicken jerky if you plan on making treats for your pets!
These high-temperature ramekins are perfect for doing everything from a mini frittata to macaroni and cheese and queso dip. They are resistant to high heat and dishwasher safe.
You may not think you need a burger press, but this thing is a time saver. Make perfect patties every time, or make them ahead and freeze them for when you're ready to grill burgers.
Make cleanup so much more simple by using these burger press paper sheets when you are making burgers.
They work well if you plan on buying meat in bulk and freezing patties for a party or event.
Place one of these grill mats underneath your food and save yourself some time when it comes to cleaning.
Perfect for foods like barbecue chicken or teriyaki that have sauces that can get messy and are sometimes a pain to clean.
Other Ninja Foodi Grill Accessories
I love looking at my Ninja Foodi grill, but not everyone does. This grill cover keeps your grill station looking good when it's not in use.
Hit the road in style If you plan on traveling with your Foodi grill, this stylish travel bag is what you need to keep everything together. Additional exterior pocket storage is great for a few utensils and some of your favorite spices. This bag is also great for longer-term storage.
Have these amazing foods delivered to your door
Sometimes high-quality foods aren't always simple to source depending on where you live. These are a few of my favorite small businesses that will deliver the highest quality ingredients to your door that you can cook in the Ninja Foodi grill.
This family-owned and operated fishing company is based in Sitka, AK and they ship some of the most amazing seafood I've ever tried.
It goes directly from their docks to your home arriving quickly and ready for cooking or storing in your freezer.
Porter Road is an online butcher shop specializing in high-quality meats sourced from farmers (and farms) that they know on a first-name basis.
It's some of the best beef, chicken, and pork available under one roof and it conveniently arrives at your doorstep.
This list of accessories is always evolving.
If only I now could figure out how to make more space to store all these fun accessories. Now that you have your Foodi all tricked out with new accessories, you should try some of the best recipes we've created specifically for the Foodi Grill.