I've been cooking with the Blackstone Air Fryer Griddle Combo for over 6 months now, so a review is long overdue.
Blackstone Products introduced the Air Fryer Griddle Combo in early 2020 with it quietly showing up around that time up at various WalMart locations.
Over the years, I've cooked over many griddles.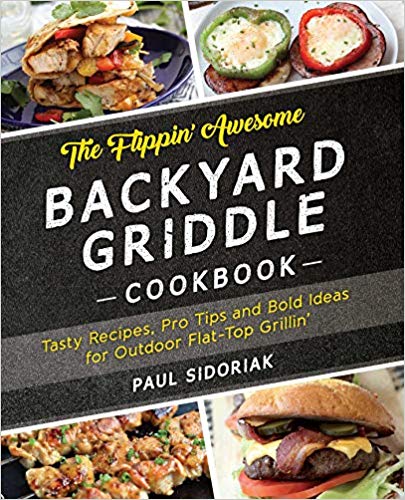 When I wrote the Flippin' Awesome Backyard Griddle Cookbook a few years ago, most of the recipes I created and tested on a 36" four-burner griddle and a 22" two burner griddle.
At the time, the griddles I cooked on were about the best available on the market. Boy how things have changed since then.
After my first cooking session with the Blackstone Air Fryer Griddle Combo, I'm realizing how much the outdoor griddles and griddle accessories have evolved in just the past couple of years.
The upgrades to the Blackstone Air Fryer Griddle Combo may seem subtle but they pack a punch
I will spare you all the details of the Blackstone Air Fryer Griddle Combo and share my most favorite features. You can read more about all the specifics in detail at the Blackstone website or in my article about the launch of the air fryer griddle combo.
Instead, share what I feel was done well with this outdoor grill (or griddle).
Why you should be cooking with an outdoor air fryer
It's important to address the highest level of innovation with this product. Blackstone has added a propane-fired air fryer to this griddle.
The air fryer is heated with the same propane that powers the griddle. But powerful fans circulate hot air around the food creating a mini convection oven style environment essential for air frying.
Simply put, an outdoor air fryer opens up so many delicious cooking possibilities. There are just so many things you can cook in the air fryer it's mind-boggling!
There are three air fryer drawers that come with the Air Fryer Griddle Combo
With 3 drawers, one look at the Blackstone Air Fryer Griddle combo, and you already know it has more capacity than a typical indoor air fryer.
One of my biggest gripes with an indoor air fryer is how much food can be cooked inside. With two cooking drawers that hold about a liter of food, each capacity is no longer an issue.
The third drawer is a warming drawer ideal for keeping food hot and ready to serve when your guests are ready to get their graze on.
A Blackstone air fryer griddle combo review should mention the griddle
There are some similarities between my older 36" Blackstone Griddle and the air fryer combo griddle.
They have the same sized griddle cooking surface. Both of them have Blackstone's patented rear grease management system, and both of them require seasoning the cooking surface before cooking.
But the air fryer combo griddle comes complete with a multi-functional griddle cover.
The griddle cover is made of metal and is easily raised and lowered over the cooking surface.
It has a clever aileron shaped design where the curves in the metal encourage any precipitation to run away from the griddle surface and not pool on the cooktop when not in use.
The griddles hardcover also does double duty acting as a griddle hood which is perfect for trapping heat. This is a good thing as the lid in a closed position will allow the griddle to pre-heat quicker and get you cooking faster.
When the lid is in a closed position, cheeses melt faster, burgers cook quicker, Even raw potatoes and other veggies benefit from cooking with the cover in the closed position.
The details are in the little details
If you go to Walmart or check out this griddle at Walmart online it's hard to overlook the price point is close to $ 600 for this griddle.
What makes the Blackstone air fryer griddle combo worth the extra money?
For starters, it's well built.
Aesthetically, it looks and feels like a more expensive griddle.
The knobs are soft-touch and ergonomic. They feel right in your hand.
Its platform is solid. I appreciate the four independently moving metal casters. They seem beefier than some plastic wheels I have on other grills. I am constantly moving cookers around on my deck, so the ability to do that easily really is more convenient.
Ignition is simple too. The ignitor now works with all burners and the air fryer burner. The air fryer can also operate without the griddle being in use which is nice if I want to reheat something like leftover chicken wings.
Electronically, it uses a beefy outdoor plug to hook into power. This may not sound like much but over time these types of things make a difference. The on-off switch for the air fryer also has a protective plastic covering which is smart. I'm sure it's to assist with the lifespan of the switch but I like to think it's there in case you really need to turn the air fryer fan on or off when your fingers are covered with BBQ sauce.
Each of the side shelves fold down for a more compact footprint when storing the griddle. And they both have pegs for hanging tongs or other tools. The left shelf even has a magnet across the front which is very handy for keeping tools nearby.
The three air fryer baskets are dishwasher safe and easy to disassemble Although they do gobble up a lot of space in the dishwasher, they clean up quite well.
What could be done differently with the air fryer combo?
With a 36" griddle surface, it would seem there is a lot of room underneath for air frying. I would hope that in the future the drawers could be even wider to fit maybe a tray of lasagna, or even a frozen pizza.
A thermometer to monitor the air fryer temperature would be a nice addition to the setup as well. There are plenty of aftermarket thermometers available and I will most likely invest in one.
Overall, I am very happy with this griddle. It cooks well. It makes sense as a combo unit where often others don't and it is a solid value for the price.
Mostly, I am excited for what comes next. Blackstone is clearly evolving with this cooker. They are making minor tweaks, adjustments, and upgrades which ultimately result in a more fun cooking experience for the home cook.
Now that you're fired up to use the air fryer, check out this Blackstone air fryer recipe for fresh corn on the cob.