Making air fryer ribs that are fall off the bone is easier than you would think and the Ninja Foodi grill makes the process simple!
I'm not sure why people are so challenged by making a rack of ribs. There are a lot of ways to make pork ribs but many of the methods are either wrong or unnecessary.
A common and unnecessary method is the straight boil method.
Your essentially making a rib soup when you boil ribs. The rib boiling method often leaves the meat overcooked and not in a good way. Boiling ribs also stinks up the house. Instead of intensifying the pork flavors, boiling dilutes the flavor so it needs to be enhanced with a sauce.
But air fryer ribs on the other hand get the job done without much if any flavor loss.
What is the benefit of cooking ribs in an air fryer?
There are a few benefits to cooking ribs in an air fryer over cooking ribs in the oven. Air fryers are compact and this dish does not require you to fire up the oven, grill, or smoker. We use foil to tightly wrap the ribs so cooking them in an air fryer ribs is pretty simple to clean up. The foil also protects the sides of the ribs from burning as the meat shrinks and gets tender.
Using an air fryer to cook ribs also gets you to chow time much quicker than other methods. In this recipe, we cook 3-2-1 ribs on a smoker which is the most common method for cooking ribs outdoors. But the 3-2-1 part stands for the amount of time (in hours) it takes to cook the ribs. Sometimes I don't have 6 hours to cook, and this method takes just over an hour.
What kind of air fryer should I use for BBQ ribs?
Almost any air fryer will work for cooking ribs.
The Ninja Foodi Grill is what is used for this recipe because of its capacity and efficiency. Capacity and efficiency are both things to take into consideration when cooking ribs in an air fryer. If the air fryer is underpowered you may need to cook them a little bit longer or in batches to achieve your desired doneness. A good quality air fryer will also work well for making other side dishes like air fryer corn on the cob.
How to make fall off the bone ribs?
You get fall off the bone ribs by cooking them tightly in foil. When pork ribs are wrapped in foil and cooked the meat steams and braises some in its own juices. Wrapping them tightly creates a closed environment which helps collagen and connective tissue break down. When the collagen breaks down it turns to gelatin which melts away. The meat is left very tender and falling off the bone.
What temperature do ribs fall off the bone?
Pork ribs really get tender and fall off the bone between 190-205F. Pork is technically cooked and safe to eat at 145F but the magic happens above 165F when the hard-working muscle fibers relax and become tender.
Using tin foil is really the difference between tender ribs, and fall off the bone tender ribs! It also protects any sugary add on's like your favorite bbq sauce or brown sugar from burning while cooking. The same hold's true for country-style ribs or beef short ribs, and you can see our method for making them in this recipe.
📖 Recipe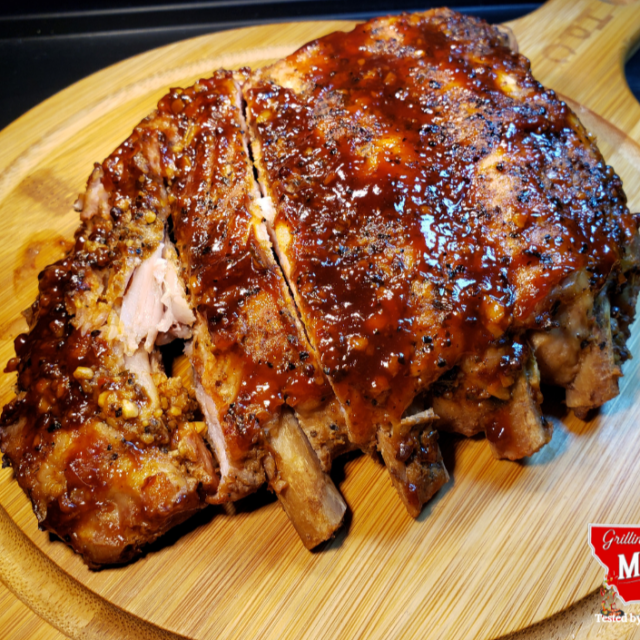 Fall Off The Bone Ribs Recipe
This cooking method produced some nicely flavored ribs that were falling off the bone tender.
Equipment
Ninja Foodi Grill or Air Fryer

basting brush

heavy duty aluminum foil

food thermometer

tongs
Ingredients
1

rack

Baby Back Pork Ribs

2

tablespoon

Seasoning of your choice

Black Pepper, Onion Powder, Garlic Powder, Bell Pepper Flakes, Smoked Paprika, BBQ Rub etc

4

tablespoon

BBQ Sauce

1

tablespoon

Worcestershire Sauce

½

cup

Water
Instructions
Let the Pork Ribs set out at room temperature for 30 minutes.

Remove the Ribs from the packaging and don't pat them dry, let the natural juices help the seasoning stick to the Ribs.

Remove the membrane if possible, however if it doesn't come off easily don't sweat it. Mine separated nicely after cooking.

Preheat your Ninja Foodi Grill on Roast to 325°F.

Place the ribs on top of heavy duty aluminum foil, meat side up.

Season with your favorite spices and rub them in to the Ribs.

Sprinkle some Worcestershire Sauce over the seasoning..

Wrap the Ribs tightly in the foil, making sure to seal all of the edges.

Place the foil pouch inside the Air Crisp basket.

Roast on 325°F for 30 minutes.

Let rest inside the foil pouch for 10 to 20 minutes.
(The internal temperature was 202°F after 20 minutes.)

Preheat to 350°F on Air Crisp mode

Remove from the foil pouch and place in the Air Crisp basket, meat side up.

Pour the juice from pouch over the top of the ribs.

Brush with the BBQ sauce of your choice.

Add ¼ cup water to the base pan to prevent the BBQ sauce from possibly smoking

Air Crisp on 350 for 5 minutes to cook the sauce on.

Remove from the grill, let rest for 5 minutes, serve and enjoy!
Nutrition
Serving:
4
g
Calories:
1382
kcal
Carbohydrates:
23
g
Protein:
111
g
Fat:
93
g
Saturated Fat:
33
g
Polyunsaturated Fat:
15
g
Monounsaturated Fat:
39
g
Trans Fat:
1
g
Cholesterol:
391
mg
Sodium:
1783
mg
Potassium:
1569
mg
Sugar:
18
g
Vitamin A:
138
IU
Vitamin C:
2
mg
Calcium:
198
mg
Iron:
5
mg
This is another amazing dish that CJ of CJ's Tasty Things cooked in the Ninja Foodi Grill. Previously, she made a different version of ribs in the Ninja Foodi Grill that is slightly chewier you may want to check out.
CJ has also made a delicious meatloaf in the Ninja Foodi Grill, that people are raving about.
If you want to see what else CJ has cooking, she also has a Facebook page to go with her Instagram and she frequently shares recipes and helps others in the Ninja Foodi Grill ❤️ Lovers Group.