Country-style pork ribs cook up just as delicious in the Ninja Foodi Grill as they do on your backyard smoker, but in a fraction of the time. This ribs recipe has you enjoying fall-off-the bone-tender pork in about 30 minutes and is one of my favorite ways to cook ribs.
What are country-style ribs?
Country-style ribs are a rich, meaty, and flavorful cut of meat that actually comes from the pork shoulder. Although not actually a rib, country-style pork ribs have a taste and texture quite similar to spare ribs. These ribs may or may not be boneless depending on how the meat is cut.
What's great about this cut of meat is that for the price, there's very little waste compared to other pork ribs. Prices vary but you can usually find this meat at your local grocery store for about 4 bucks a pound.
Like many pork cuts, this one does go on sale often and is worth stocking up on if you get a good deal.
How long does it take to smoke these ribs?
Smoking country-style ribs can take anywhere from 1-4 hours on a pellet grill or smoker. In this recipe, the ribs cook in about 30 minutes because we use the Ninja Foodi Grill to cook the ribs. It's easy to get a smoke flavor on the ribs by using a smoky barbecue sauce and slathering it on at the very end of your cook. Even though the meat cooks quickly, it has the same tender consistency of something cooked low and slow on a smoker.
Recipe & sauce ingredients
The ingredients for this recipe are super simple. You can simply season the pork with kosher salt and garlic powder and it will come out delicious. But I like to use a pork rub or seasoning blend similar to what I would use for making pulled pork.
Some people like to add a little brown sugar to pork and although I do like a sweet flavor profile I find that it is susceptible to burning if you're not careful. If you insist on adding a sweetener, I would wrap them tightly in foil after seasoning. Remove the foil for the last 10 minutes of your cook and it will allow the meat to brown with less of a chance of the sugars burning. The same advice is true for adding barbecue sauce. Because the barbecue sauce has sugars it can burn so putting it on at the very end is best.
Just like cooking ribs in the oven, you want to preheat the Ninja Foodi Grill before putting the food inside. If I have the time, I like to take the pork out of the refrigerator and allow it to rest on the counter at room temperature for up to an hour before cooking. A little headstart lets the food cook a bit more evenly than straight from the fridge. Even 15 minutes on the counter at room temperature is worth the effort.
All types of ribs become extremely tender with more of a fall-off-the-bone consistency if you cook them most of the time or the entire time wrapped tightly in foil. If the ribs are cooked low and slow, they get quite soft at an internal temperature of 203-205F.
What to serve with this recipe?
Here is my list of the top 15 things to serve with country ribs:
Corn muffins
Coleslaw
Corn on the cob
Mashed potato
Collard greens
Baked macaroni and cheese
Ranch beans
Bread and butter pickles
Boston baked beans
Caesar salad
Waffle fries
Three bean salad
German potato salad
Mango with Tajin seasoning
How to store these ribs
Once cooked, country-style ribs can be stored in the refrigerator in a tightly sealed container or zip-top bag for 2-4 days. If you decide to freeze them, it's good practice to use them within about 90 days but wrapped tightly they can be kept for up to 6 months without too much worry.
📖 Recipe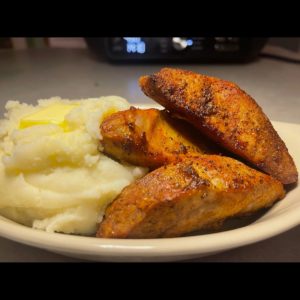 Country Style Ribs Recipe
Country-style pork ribs are a delicious and affordable alternative to spare ribs or baby back ribs. Packed with flavor, these ribs cook in a fraction of the time because we use the Ninja Foodi Grill to cook them instead of an outdoor grill or smoker.
Equipment
Ninja Foodi Grill or Air Fryer
Ingredients
2.5

pounds

country-style pork ribs

½

cup

barbecue rub

1

cup

barbecue sauce
Instructions
Remove the ribs from their packaging and pat dry with a paper towel

Season the ribs generously on all sides with your favorite barbecue rub

Allow the seasoned ribs to rest at room temperature for up to one hour

Preheat your Ninja Foodi Grill on roast setting at 350

Place your ribs in the air crisp basket

Cook the ribs until they reach an internal temperature of 195F. About 30-45 minutes

Optional: Slather your favorite barbecue sauce on the ribs and return to the Foodi Grill for 5 minutes

Remove ribs from the Ninja Foodi Grill and allow them to rest covered for 5 minutes
Notes
It's not uncommon for country-style ribs to have some boneless pieces and some with the bone in the same package.
This is normal.
Although the bone may add some small amount of additional flavor to the meat, the boneless pieces are just as delicious as the ones with the bone attached.
If you're looking for smoke flavor in this dish, consider sourcing a smoky barbecue sauce or seasoning rub to add a kiss of smoke. Although I do enjoy a good barbecue sauce, I prefer these ribs with no sauce at all so I can enjoy the rich pork flavors.
Nutrition
Serving:
10
oz
Calories:
471
kcal
Carbohydrates:
29
g
Protein:
36
g
Fat:
22
g
Saturated Fat:
4
g
Polyunsaturated Fat:
2
g
Monounsaturated Fat:
5
g
Trans Fat:
1
g
Cholesterol:
136
mg
Sodium:
850
mg
Potassium:
752
mg
Fiber:
1
g
Sugar:
24
g
Vitamin A:
175
IU
Vitamin C:
1
mg
Calcium:
64
mg
Iron:
2
mg