A smoked whole chicken is easy to make on a pellet grill and so delicious. I will explain how simple it is to smoke a chicken and why it's one of the best things you will make all week!
When I want to make something that's both yummy and affordable without too much effort a whole chicken is usually my go-to dish.
I love smoking a whole chicken because you not only get a flavorful meal but the leftovers can be transformed into a variety of other dishes. One cup of cooked chicken only has 38 grams of protein and only 5 grams of saturated fat making this a healthy dish.
Ingredients
Whole chicken
Olive oil
Chicken seasoning or spice rub
Lemon
Onion
Rosemary sprigs
How to Cook a Whole Chicken on a Pellet Grill
The method for cooking a whole chicken on a pellet grill is pretty simple. Once you've removed any giblets from the chicken, give it a rinse, both inside and out under cold water, and pat it dry.
While your pellet grill is preheating to 225F, brush the chicken skin with olive oil and sprinkle some of the seasonings inside the cavity of the chicken. The bird can then get stuffed with lemon slices, onion, and fresh rosemary sprigs.
Tuck the wings under the bird and tie the legs together in front of the cavity with butcher's twine to promote even cooking. Then season all sides of the exterior of the bird with the remaining seasoning.
Smoke the bird for one hour at 225F and then increase the heat on your pellet grill to 375F. Allow the chicken to roast until it hits an internal temperature of 165F, then remove it from the heat and let it rest for 15-2o minutes before slicing.
Is a pellet grill chicken hard to make?
A whole chicken is simple to make when you're using a pellet grill.
The key is to smoke the bird first which will add some sweet and savory flavors. Then you roast it to get the chicken skin nice and crispy.
When you grill whole chicken, it's just as good as a rotisserie chicken but with the additional pop of smoky flavor from your pellet grill. If you don't have a pellet grill you can still make this dish.
Consider adding a bit of smoked paprika to your dry rub for some additional smoke flavor on your gas grill. You can also get a smoky flavor by placing some wood chips in a smoking box for gas grills for additional flavor.
How long does it take to smoke a whole chicken?
It can take as long as six hours to smoke a chicken at 225F until it's safe to eat which is an awfully long time to wait.
Smoked whole chicken needs to come to a safe internal temperature of 165 degrees. So instead of smoking for the entire time, we smoke for the first hour and then roast the chicken to our desired finish temperature.
The additional roasting encourages the chicken to have crispy skin that retains the delicious smoke flavor. This method makes some of the juiciest smoked chicken breasts I've ever tasted. It's so satisfying when you remove the thickest part of the breast and it's just dripping with juices.
Pellet Grill Chicken FAQs
How long does it take to cook a whole pellet chicken?
If you're cooking at a lower temperature, it can take as long as 6 hours to cook a whole chicken on the pellet grill. At higher temperatures, roasting times vary but you can budget about 20 minutes per pound at 375F.
What should I serve with this recipe?
There's nothing I like to serve with roasted chicken more than potatoes and corn. If you want to liven things up a bit, spicy-sweet street corn with bacon and jalapeno goes so well with a whole chicken. And you can't go wrong serving Crispy No-Fry Potatoes alongside.
How do I store leftover chicken?
The leftover chicken will keep in the refrigerator in a sealed container or bag for up to three days after it's cooked. It's easier to remove the chicken meat from the bones while the chicken is still warm but don't forget to save the bones for soup or stock another day.
Do I need to flip the Chicken?
The great thing about cooking chicken on a pellet grill is that it does not need to be flipped. Because a pellet grill cooks very similarly to your oven, there's no need to flip the bird part way through.
Now that you've mastered chicken on the pellet grill, you should consider trying to cook a turkey on a charcoal grill. This recipe shows you how to do a delicious smoked turkey when you're ready to do a bigger bird! It also makes an amazing chicken salad! If boneless chicken is more your style, this chicken Cordon bleu recipe is a crowd-pleaser and tastes delicious when cooked on a pellet grill!
📖 Recipe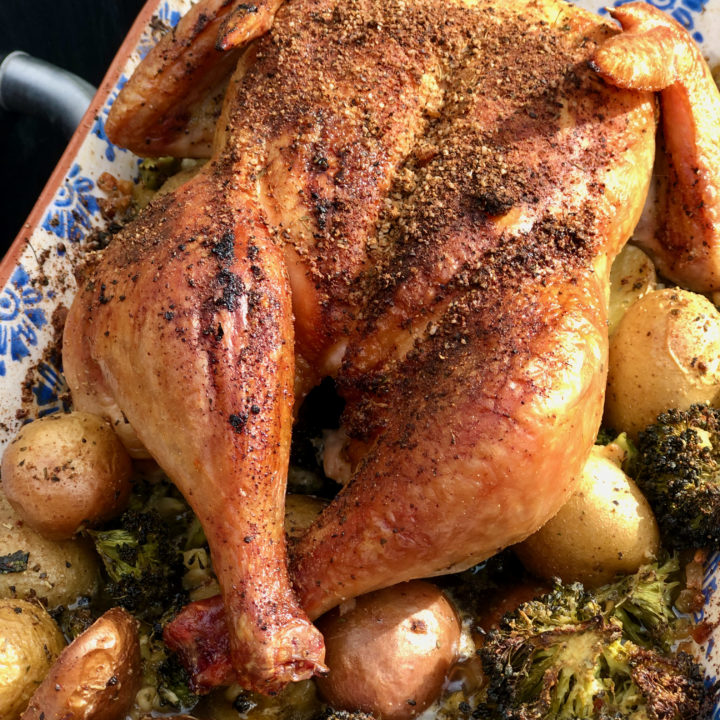 Smoked Whole Chicken on a Pellet Grill
If you're looking for an easy way to grill whole chicken, the pellet grill is your answer. Use it like a flavorful oven to make a wonderfully smoky chicken that's roasted to perfection.
Ingredients
1

whole chicken

1

tablespoon

olive oil

2

tablespoons

chicken seasoning

½

lemon

sliced

½

onion

chopped

4

rosemary sprigs
Instructions
Remove any giblets from the chicken

Optional:

Place the chicken on a wire rack with a baking sheet underneath and allow it to dry in the refrigerator for 2-4hours or overnight. This will further dry the chicken skin and promote browning

Preheat your pellet grill to 225F

Brush the chicken skin with olive oil

Lightly season the inside of the chicken cavity, reserving the majority of the seasoning for the skin

Stuff the bird with lemon slices, onion, and rosemary sprigs

Cross the two chicken legs and tie them together using butchers' twine to secure them in front of the cavity to promote even cooking. You can optionally also tuck the wings under the chicken by pushing the flats down toward the rear of the bird and tucking them underneath

Season the exterior of the bird with the remaining chicken season so it's well covered

Insert a digital meat thermometer or the grill's thermometer into the centermost and thickest part of the chicken breast side without touching any bone

Place the chicken on your pellet grill and smoke for one hour at 225F

Increase the heat on your grill to375F and continue roasting until the white and dark meat reaches an internal temperature of 165F.

Remove the cooked chicken from the grill and allow it to rest for 15-20 minutes. Snip and discard the butcher twine and enjoy.
Notes
Cooking times are always approximate when making something like pellet grill chicken. Please be sure and use a digital probe thermometer to monitor the doneness of the food.
Once you learn how simple it is to grill whole chicken, you will want to make this dish regularly. If you prefer butterflied chicken, just cook it with the chicken skin side up. This will make juicy chicken that's delicious on it's own or served with just a sprinkle of kosher salt.
Here are some other pellet grill recipes we enjoy cooking that are worth taking a look at.
Nutrition
Serving:
6
oz
Calories:
456
kcal
Carbohydrates:
4
g
Protein:
36
g
Fat:
32
g
Saturated Fat:
9
g
Polyunsaturated Fat:
7
g
Monounsaturated Fat:
14
g
Trans Fat:
1
g
Cholesterol:
143
mg
Sodium:
135
mg
Potassium:
412
mg
Fiber:
1
g
Sugar:
1
g
Vitamin A:
323
IU
Vitamin C:
11
mg
Calcium:
48
mg
Iron:
3
mg