Boneless pork shoulder is a real treat to cook in the Ninja Foodi Grill.
A hard-working muscle, the pork shoulder packs lots of flavors when cooked properly. It's one of the most affordable ways to feed a large hunk of meat to a few people.
Boneless pork shoulder can handle a lot of seasoning
The Ninja Foodi Grill can coax tons of flavor out of the pork shoulder, but I prefer to use a seasoning blend or rub to make the meat even more delicious.
For this dish, I used a seasoning called The Cure by Flavor Anonymous. Although I'm not certain what's in The Cure, it shows nuances of garlic, pepper, salt, and brown sugar that all work wonderfully with pork.
If you have the forward-thinking to season your meat ahead of time, the roast will take on some additional flavors you have to taste to appreciate.
This pork roast is seasoned up to two days ahead of time, allowing the flavors to get acquainted with each other.
I've seasoned pork this way as many as five days ahead of cooking and had brilliant results.
When I don't have a few days to let The Cure do its magic, I use this Woodfired Garlic Rub with a hint of smoke because I feel that the kiss of smokey flavor adds a nice depth of flavor to the meat.
The Ninja Foodi grill makes this roast so tender
One of the secrets to a tender pork shoulder is cooking to a specific temperature. Adjusting what temperature you cook the meat to will often determine if the meat has a firm steak-like quality or a softer, more slow-cooked consistency.
So what temperature do you cook a boneless pork shoulder to?
Boneless pork shoulders typically get cooked to between 195F-205F. If you want the meat more sliceable for sandwiches cook closer to 195F. If you prefer that the meat becomes shreddable for something like pulled pork sandwiches cook until it reaches 205F.
With this recipe, I wanted somewhere in between slicing and shredding so I cook the meat to 200F before allowing it to rest.
If you really want to take this dish in a different direction, use the same method for making Moscow Mule brined pork chops to brine the boneless pork shoulder before cooking. It will be delicious!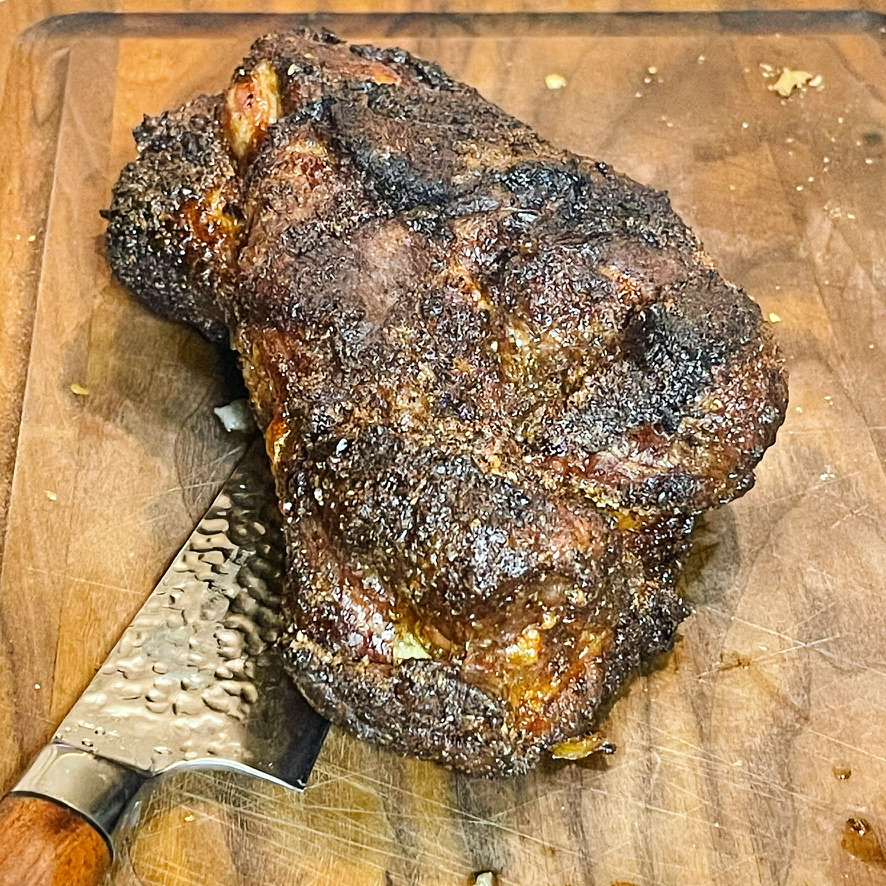 Ninja Foodi Grill Recipe: Boneless Pork Shoulder
Boneless pork shoulder is an affordable cut of meat that you may not have considered cooking in the Ninja Foodi Grill or air fryer.
A hard-working muscle, the pork shoulder is full of flavor.
Slow roasting pork shoulder is key to making the meat tender.
If you're looking for a delicious meal that takes very little effort to make give this boneless pork shoulder recipe a try in the air fryer or Ninja Foodi Grill. You won't be disappointed!
Ingredients
1

boneless pork shoulder

about 5 pounds

1

cup

of your favorite pork rub
Instructions
Rinse the pork shoulder under cold water and pat dry

Season all sides of the pork shoulder with your favorite bbq or pork rub.

Place the pork shoulder in a zip-top bag and allow the spices to dry brine or marinate the pork in the refrigerator for up to two days (optional)

Place the pork shoulder inside of the air-fry basket fat side down

Re-season any areas where seasoning has fallen off (optional)

Find one of the thickest parts of the pork shoulder and insert the thermometer probe into the center of that area so that it gets an accurate reading

Preheat your Ninja Foodi Grill to 225F on the roast setting

When the Ninja Foodi Grill is preheated place the pork shoulder and basket inside of the grill

Insert the other end of the probe into its receiver in the Ninja Foodi Grill and set the temperature to 200F

When the pork shoulder reaches an internal temperature of 115F flip the meat so the fat side is up

Continue roasting until the meat reaches an internal temperature of 200F

Remove the pork shoulder from the Ninja Foodi Grill and allow it to rest covered with foil for 10-15 minutes before slicing
Nutrition
Serving:
1
g
Calories:
156
kcal
Protein:
15
g
Fat:
10
g
Saturated Fat:
4
g
Polyunsaturated Fat:
5
g
Cholesterol:
53
mg
Sodium:
37
mg